Rack introduction: Rack drive is a very efficient transmission method, which is usually used in applications with large axial force. The advantage is that the drive unit maintains the same stiffness over the entire stroke length; in addition, it is very economical for applications with strokes over 2m.
The rack is driven by a pinion that rotates back and forth on a fixed rack. In principle, the racks are divided into two forms: straight racks and helical racks, the standard part is 1m, and multiple racks can be spliced in any length.
The racks can be milled or ground according to customer requirements, and the racks can be of different hardness. According to different bearing conditions, customers can choose the tooth surface material quenching and tempering, quenching, grinding and other processes.
The standard rack module from 1 to 10 is the industry standard specification, and both straight and helical gears are available in stock. The high-precision racks reach DIN6 accuracy, and the pitch error is less than 0.032mm/m, which is widely used in many fields, including transmission shafts, mobile gantry, handling robots, material handling, automation, automobiles, aviation, robots, CNC machine tools and materials transport system, etc.
1. Introduction of precision rack products:
Complete tooth profile: straight and helical.
2. Complete specifications: module 1~10, can be connected to the rack. The single processing length can reach 1000mm and 500mm.
3. Material: carbon steel
4. Multiple processes: heat treatment / no heat treatment, grinding / no grinding, tooth surface grinding / no tooth surface grinding.
5. Can be produced according to customer requirements. Not only does it offer precision quality comparable to Germany and Japan, but it also offers fast delivery and great prices.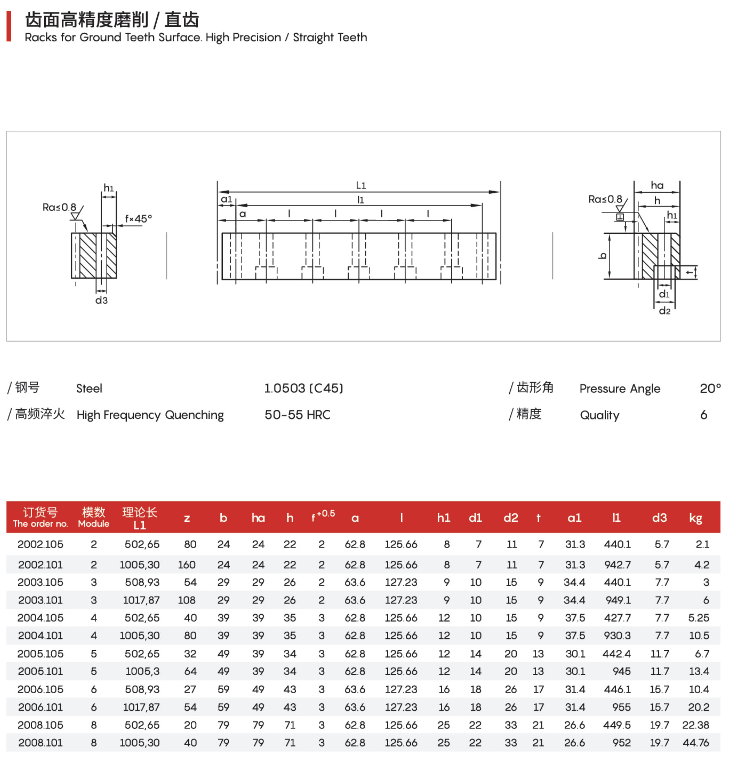 Second, the main features of precision racks:
1. Zero backlash/high precision, unique and innovative effective meshing ensures that more than two gear teeth are always in contact, and the two directions of the gear teeth ensure zero backlash and a positioning accuracy of 0.02mm. Precise measurement of the position of each gear tooth profile relative to the first gear tooth ensures extremely high positioning accuracy and eliminates cumulative errors in tooth pitch.
2. High-speed operation capability The rack drive system can realize high-speed transmission and achieve high positioning accuracy that only linear motors can provide. The goal is that the ultra-low friction design will not generate heat or wear components at high speeds.
3. The linear rack drive system with precise rack stroke length adopts modular design. There are two lengths of 1m and 0.5m, which can be connected according to application requirements or cut into shorter lengths as required, which is very beneficial for rack storage, efficient supply, cost reduction and interchange. The rack is connected with a special tool, and the position accuracy of the previous rack is accurately transmitted to the next rack through the teeth of the rack. Non-standard parts can also be customized according to drawings.
6-stage rack machining process:
Forging blank SC45/42Cr Forging blank to size (blanking) → quenching and tempering / tempering normalizing / annealing treatment to relieve stress → straightening straightness and parallelism verticality → rough milling / grinding four sides, splicing ends at both ends → inverted Corner deburring four sides → straightness straightness and parallelism perpendicularity → gear hobbing → guaranteed length and infinite splicing characteristics → fine grinding of four sides and splicing ends → high frequency quenching high frequency quenching tooth surface quenching → aging to stabilize deformation after high frequency and stress → straightening (multiple times) to stabilize deformation and stress after high frequency → fine grinding and fine grinding of tooth surfaces/four sides and spliced ends → punching in punching machining center → deburring to remove burrs, sharp angles → straightening straight lines Degree and parallelism perpendicularity → clean impurities and foreign objects → three-coordinate detection and detection of tooth shape, accuracy, hardness, straightness, perpendicularity, parallelism, etc. → engraving logos according to specifications and models → immersed in oil to prevent rust → Packaging / Warehousing Packaging Inventory Warehousing.