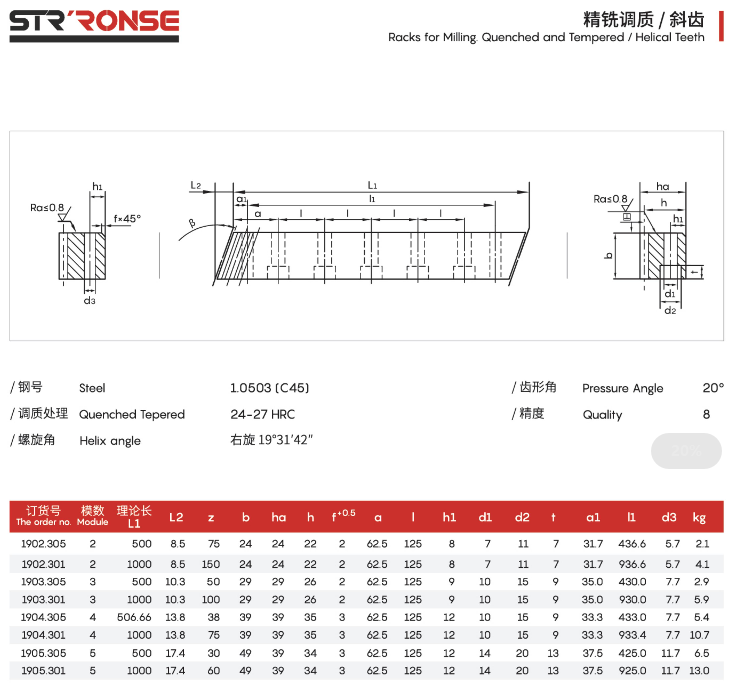 STRRONSE fine-milling rack adopts precision milling process, and the rack adopts fine-milling quenching and tempering treatment. It can process 2-5 modules. It can be customized according to the quantity. The machining length of the fine-milling rack can reach 1 meter. The overall running accuracy, the rack accuracy can reach DIN standard 8, and the fine-milled rack is suitable for applications with large linear motion and axial force.

Wide range of industry applications, used in automation industry, robots, machine tools and other equipment
The precision of the fine-milled rack is slightly lower than that of the grinding rack, and the cost-effectiveness is high. It is suitable for equipment that does not require high precision. It has low noise during operation, stable operation and long life.
STRRONSE can provide various types of racks with a stable monthly output of more than 20,000 pieces. The accuracy of the rack covers DIN6S-DIN10, and the module includes 1.5-10. It has straight and helical teeth with various processes such as milling, grinding, and quenching. Combined with various styles of gears and reducers, it can provide suitable Targeted application solutions for fields and working conditions.
Steel 1.0503 (C45) Pressure Angle 20°
Workmanship High Frequency Quenching50-55 HRC/Quenched Tepered 24-27 HRC Quality 8/9
Helix angle Right Rotation 19°31'42"
| | | | | | | | | | | | | | | | | | | |
| --- | --- | --- | --- | --- | --- | --- | --- | --- | --- | --- | --- | --- | --- | --- | --- | --- | --- | --- |
| 订货号 | 模数 | 理论长 | L2 | z | b | ha | h | f・0.6 | a | l | h1 | d1 | d2 | t | a1 | l1 | d3 | kg |
| 1902.305 | 2 | 500 | 8.5 | 75 | 24 | 24 | 22 | 2 | 62.5 | 125 | 8 | 7 | 11 | 7 | 31.7 | 436.6 | 5.7 | 2.1 |
| 1902.301 | 2 | 1000 | 8.5 | 150 | 24 | 24 | 22 | 2 | 62.5 | 125 | 8 | 7 | 11 | 7 | 317 | 936.6 | 5.7 | 4.1 |
| 1903.305 | 3 | 500 | 10.3 | 50 | 29 | 29 | 26 | 2 | 62.5 | 125 | 9 | 10 | 15 | 9 | 35.0 | 430.0 | 7.7 | 2.9 |
| 1903.301 | 3 | 1000 | 10.3 | 100 | 29 | 29 | 26 | 2 | 62.5 | 125 | 9 | 10 | 15 | 9 | 35.0 | 930.0 | 7.7 | 5.9 |
| 1904.305 | 4 | 506.66 | 13.8 | 38 | 39 | 39 | 35 | 3 | 62.5 | 125 | 12 | 10 | 15 | 9 | 33.3 | 433.0 | 7.7 | 5.4 |
| 1904.301 | 4 | 1000 | 13.8 | 75 | 39 | 39 | 35 | 3 | 62.5 | 125 | 12 | 10 | 15 | 9 | 33.3 | 933.4 | 7.7 | 10.7 |
| 1905.305 | 5 | 500 | 17.4 | 30 | 49 | 39 | 34 | 3 | 62.5 | 125 | 12 | 14 | 20 | 13 | 37.5 | 425.0 | 11.7 | 6.5 |
| 1905.301 | 5 | 1000 | 17.4 | 60 | 49 | 39 | 34 | 3 | 62.5 | 125 | 12 | 14 | 20 | 13 | 37.5 | 925.0 | 11.7 | 13.0 |
| 1906.405 | 6 | 500 | 20.9 | 25 | 59 | 49 | 43 | 3 | 62.5 | 125 | 16 | 18 | 26 | 17 | 37.5 | 425.0 | 15.7 | 9.9 |
| 1906.401 | 6 | 1000 | 20.9 | 50 | 59 | 49 | 43 | 3 | 62.5 | 125 | 16 | 18 | 26 | 17 | 37.5 | 925.0 | 15.7 | 19.8 |

Steel 1.0503 (C45) Pressure Angle 20°
Workmanship High Frequency Quenching50-55 HRC/Quenched Tepered 24-27 HRC Quality 8/9
| | | | | | | | | | | | | | | | | | |
| --- | --- | --- | --- | --- | --- | --- | --- | --- | --- | --- | --- | --- | --- | --- | --- | --- | --- |
| 订货号 | 模数 | 理论长 | z | b | ha | h | f +0.5 | a | l | h1 | d1 | d2 | t | a1 | l1 | d3 | kg |
| 2002.405 | 2 | 502,65 | 80 | 24 | 24 | 22 | 2 | 62.8 | 125.66 | 8 | 7 | 11 | 7 | 31.3 | 440.1 | 5.7 | 2.1 |
| 2002.401 | 2 | 1005,30 | 160 | 24 | 24 | 22 | 2 | 62.8 | 125.66 | 8 | 7 | 11 | 7 | 313 | 942.7 | 5.7 | 4.2 |
| 2003.405 | 3 | 508,93 | 54 | 29 | 29 | 26 | 2 | 63.6 | 127.23 | 9 | 10 | 15 | 9 | 34.4 | 440.1 | 7.7 | 3 |
| 2003.401 | 3 | 1017,87 | 108 | 29 | 29 | 26 | 2 | 63.6 | 127.23 | 9 | 10 | 15 | 9 | 34.4 | 949.1 | 7.7 | 6 |
| 2004.405 | 4 | 502,65 | 40 | 39 | 39 | 35 | 3 | 62.8 | 125.66 | 12 | 10 | 15 | 9 | 37.5 | 427.7 | 7.7 | 5.25 |
| 2004.401 | 4 | 1005,30 | 80 | 39 | 39 | 35 | 3 | 62.8 | 125.66 | 12 | 10 | 15 | 9 | 37.5 | 930.3 | 7.7 | 10.5 |
| 2005.405 | 5 | 502,65 | 32 | 49 | 39 | 34 | 3 | 62.8 | 125.66 | 12 | 14 | 20 | 13 | 30.2 | 442.3 | 11.7 | 6.7 |
| 2005.401 | 5 | 1005,3 | 64 | 49 | 39 | 34 | 3 | 62.8 | 125.66 | 12 | 14 | 20 | 13 | 30.2 | 945 | 11.7 | 13.4 |
| 2006.405 | 6 | 508,93 | 27 | 59 | 49 | 43 | 3 | 63.6 | 127.23 | 16 | 18 | 26 | 17 | 31.4 | 446.1 | 15.7 | 10.4 |
| 2006.401 | 6 | 1017,87 | 54 | 59 | 49 | 43 | 3 | 63.6 | 127.23 | 16 | 18 | 26 | 17 | 31.4 | 955 | 15.7 | 20.2 |