WPLQE right angle planetary gearbox with square through hole output flange can be installed on multiple sides, suitable for working conditions with high bearing capacity. Right angle gearbox with square output flange. Therefore, it is very convenient to install, can be used on multiple sides, and can withstand high radial and axial forces due to the large-sized deep groove ball bearings.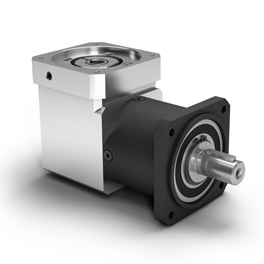 Product description
WPLQE has three sizes of 60, 90, and 120 to choose from. WPLQE can be directly bolted to the machine without other intermediate flanges. The output flange with through holes allows for easier maintenance and simple installation. On the WPLQE, the output element can be mounted directly on the output shaft, saving time and money without compromising performance. Due to the large size deep groove ball bearing on the output shaft, this right angle gearbox can withstand high radial and axial forces. The flexibility of WPLQE is also very high due to the variety of installation forms.
The rated torque of this gearbox is 14-260Nm, the radial force is 900-2950N, the axial force is 1000-2500N, and the return clearance is 11-21arcmin. Economical right-angle planetary gearbox, reinforced deep groove ball bearing, various transmission ratios, service life of 20,000 hours, working temperature range between -25-90 ℃, three lubricating temperatures of food, standard and low temperature can be selected, torsional stiffness 1.9 -19Nm, the weight is in the range of 1.8-14.2kg, and the specific parameters of the product vary according to the selection.
The angle type planetary gearbox with output shaft combines the advantages of the compact angle type gearbox and the traditional planetary gearbox. This flexibly mounted corner gear unit offers you an intelligent drive solution in a compact mechanical design. The advantage of the output shaft of the angular planetary gearbox lies in the reliable transmission of torque and speed at right angles. Here you can choose between a meshing connection with an output shaft with feather keys for added safety or a smooth output shaft providing a friction drive. Our angular planetary gear units with output shaft can be combined very easily with numerous drive elements such as pulleys, couplings or linear shafts. Angular planetary gearbox drive flange with output shaft for individual adaptation to your motor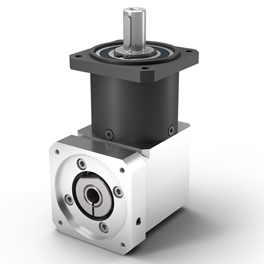 Product advantages
Flexible installation
High load
Equipped with larger deep groove ball bearings
optional
Various types of output shafts
lubricating
Various types of drive flanges
Flexible connection of motors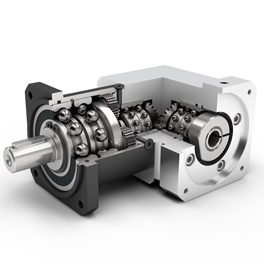 Use
Packaging industry, food industry, printing industry
Features
Optimized output bearing
Square output flange
Great flexibility in installation
Extremely high dynamics in multi-axis systems
Lubricated for life and therefore maintenance-free
precise meshing