WGN hollow shaft gearbox output hypoid gear gearbox 1 - low noise, installed in the way of tensioning force transmission
The WGN is an extremely quiet hollow shaft output hypoid gear gearbox. At the same time, the hypoid gear can improve the quality of the workpiece surface to which the equipment is applied. Using a shrink sleeve, it can be connected directly to the application - simple, safe and offers a new type of construction design.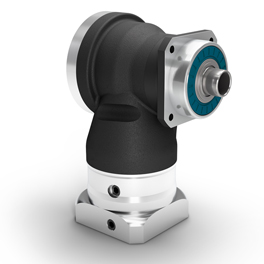 Product description
WGN hollow shaft gearbox runs very quietly. Due to the use of hyperboloid gears, WGN runs very quietly and has a small vibration amplitude, and no other noise reduction measures are required on the machine. The synchronous operation of the WGN gearbox has also been optimized, and the workpiece standard and quality of the equipment used have also reached a high level. WGN's hollow shafts can be connected directly to machine shafts, a process that is safe, convenient and space-saving.
With our corner gear units with hollow shaft, you can drive the machine shaft directly via the clamping set. Here we rely on reliable, high-precision helical gears to transmit torque and speed at right angles. The machine shaft is inserted directly into the hollow shaft of the gear unit and connected to this by means of a clamping set. This allows for a very simple friction fit connection - no additional auxiliary structures such as intermediate flanges and couplings are required. Neugart's angle gear units with hollow shaft can be screwed directly to the machine via a through hole in the output flange. As a further option, hollow shafts at both ends are also available for angle gearboxes. In this way, the lines that have been routed from the machine shaft can also pass through the gearbox. So you can increase your flexibility and at the same time guarantee your versatility in mechanical design with a servo gearbox with hollow shaft. Planetary gearboxes are combined with angular gearboxes with hollow shafts to achieve higher transmission ratios. Due to their right-angle construction, the corner gearbox with hollow shaft is also an option for optimal design of limited spaces with space-saving drive elements. For added flexibility, the angular planetary gearbox with hollow shaft is lubricated for life and can be installed and used in all spatial positions due to its design. Therefore, you can flexibly design the construction space regardless of the positioning of the drive unit. The drive flange of the angular planetary gearbox can be individually adapted to the motor. The compact unit of angle gear unit with hollow shaft and servo motor increases flexibility.
Product advantages
runs very quietly
excellent surface quality
Convenience, safety, force transmission
High flexibility during installation
completely sealed
Cables can be routed through hollow shafts
Optional
Various types of output shafts
Lubricate
Optimized tensioning system
Various types of drive flanges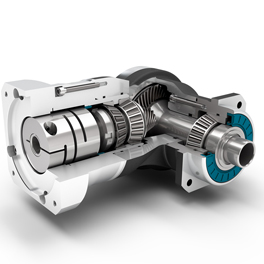 Use
Packaging equipment, pharmaceutical technology and the pharmaceutical industry
Features
hollow shaft, safety