WPSFN hollow shaft planetary gearbox. The shortest hypoid right-angle gear units with flanged output shaft and hollow shaft Our WPSFN series can be integrated into systems extremely easily and quickly thanks to their standardized flange interface. Synchronized running performance is greatly optimized to achieve excellent surface quality by means of hypoid gears and helical planetary systems. The shortest right-angle precision gearbox, with integrated hollow shaft output, brings you a new output connection solution.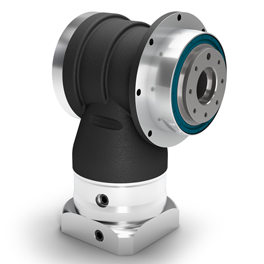 Product description
The hollow shaft gearbox of WPSFN flange output is a right-angle gearbox, which can play the best effect in a limited space; the use of hypoid gears further improves the processing quality of the gearbox; it is equipped with preloaded angular contact Roller bearing, round extra large output flange, can choose to reduce the return clearance, rated torque 22-625Nm, radial force 2150-12000N, axial force 4200-9500N, return clearance 3-5 arc minutes. The service life of this gearbox is 20000h, the working temperature range is -25-90℃, there are three lubrication methods of standard, low temperature and food grade, and the torsional stiffness range is 1.9-111Nm. Different specifications and models have different selection parameters. type parameter. Our angular planetary gear units with output flange stand out for their compact flange connection. The right-angle construction facilitates space-saving positioning of the drive system, giving you maximum design freedom.
The geometry of the output side of the planetary gearbox is oriented towards the most common industrial robots. The advantage of dimensioning according to EN ISO 9409-1 is the quick and easy connection of other drive components such as turntables, linear units or couplings that comply with the standard. This makes it easy and quick to establish the mechanical connection of the planetary gearbox with output flange to your machine. In addition, the connection between the planetary gear unit and the machine tool is secured by locating pin holes built into the output flange. Due to the compact design, the flanged output shaft is not only very space-saving, but also has a high torsional strength. This advantageous characteristic of the gear unit is confirmed when driving turntables or other components: high precision and fast cycling, even when the direction of movement is alternated. The drive flange of the angular planetary gearbox can be individually adapted to the motor. The compact unit of angle gearbox and servo motor increases flexibility.
For added structural flexibility, the angular planetary gearbox with output flange is lubricated for life and can be installed and used in all spatial positions due to its design. Therefore, you can flexibly design the construction space regardless of the positioning of the drive unit.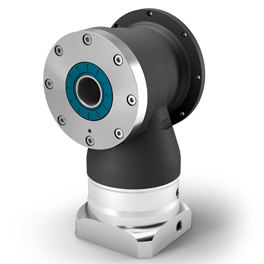 Product advantages
Low installation height saves space
Improve quality with high-grade gear teeth
Standardized flange connection with hollow shaft
completely sealed
runs very quietly
Can be installed anywhere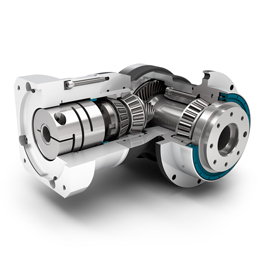 Optional
Various types of output shafts
return clearance
Lubricate
Optimized tensioning system
Various types of drive flanges
installed pinion
Use
Packaging equipment, machine tools, food industry
Features
Quiet operation, precision type, flange interface